Mind Movies

Combines
The Law Of Attraction
And Visualization




Natalie Ledwell, Glen Ledwell, Ryan Higgins and the Mind Movies team can help you reach you wildest dreams by offering one of the most effective visualization tools for bringing your dreams, desires and goals into reality. Use this easy piece of software to combine your favorite images, affirmations and music into personalized movies that are perfect just for you.




The Law of Attraction kicks in and the universe starts to look for ways to deliver you the ideas, people, circumstances, events and things you desire.




Mind Movies 4.0

Watch the videos below in that order and make sure you get the manifestation gift they're giving away.

Video 1 - Natalie Ledwell and her husband Glen revealing how they got started down the rocky road to success. Natalie and Bob Proctor also share the REAL secret to successful visualization. They explain how to really get results with the Law of Attraction.




Video 2 - This is another action-packed video that takes another turn on Natalie's and Glen's journey to their final destination... And also shares an interview with the amazing neuroscientist and well-known author, Dr. Joe Dispenza. In this video they go deep into the science behind the Law of Attraction and show what happens to your brain when you watch a Mind Movie.




Video 3 - This is the pinnacle of Natalie's and Glen's crazy journey to success. If you've seen the first two videos in the series, you're really going to want to see how it all comes together here.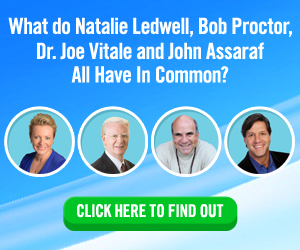 So you don't need any special technical skills with this. Making videos like this is easy for anyone. You can download the piece of software and start using it right away. It's basically just clicking, dragging and dropping, customizing the different parts so that your movie makes you feel strong positive emotions. 

This was Natalie Ledwell's very first personalized Law of Attraction video that she created in 2007. Natalie is one of the three founders of Mind Movies.
Today, Natalie says how incredible it is to look back at all of the amazing adventures she dreamed of back then and has manifested. For example, some of her dreams in 2007 were visiting Kenya and Dubai, celebrating 15 years of marriage with her loving husband Glen, having a career she's very passionate about...
How to Use Your Own Mind Movies
You can play your customized movies on your computer, iPod, mobile phone... As you then watch your own Law of Attraction video for a few minutes every day, preferably in the morning and in the evening, you start creating your future in a really fun way.
There's a lot of pre-made material in this tool that you can choose from, but you can also use your own images or write the affirmation texts just as you want them to be. After all, it's about your dreams and your life, right?
I highly recommend that you try this fun tool. It's endorsed by many Law of Attraction and visualization experts, such as Bob Proctor, Joe Vitale, and John Assaraf, who use it, as well. We all play all kinds of movies in our minds all the time, so why not make them as useful as possible? :-)
Natalie's Fascinating LOA Book
Natalie Ledwell's book Never In Your Wildest Dreams is an absolutely fascinating story. They say that the people in this tale are fictive, but it seems to me that many things are directly from Natalie's own life, which makes it all even more captivating. Each chapter includes a free bonus video where she explains the teachings of each chapter.
They're giving it away for FREE now, so go get it!